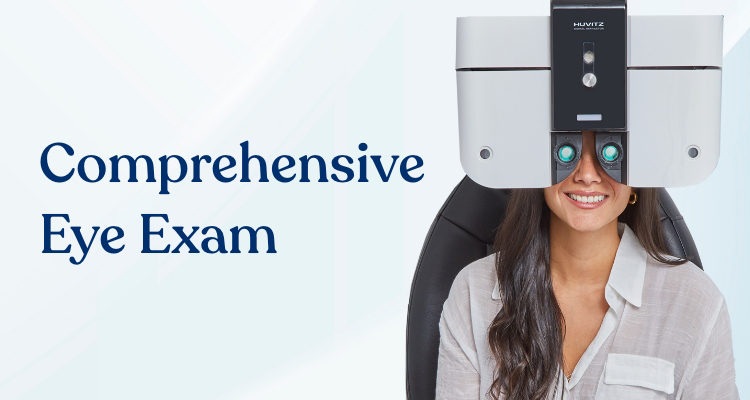 Your Eye Exam: Fast, Easy & Affordable
Many people don't realize the importance of eye care. However, many ophthalmologists and optometrists advise to get an eye exam at least once a year. With the fast-paced environment we live in today and the fact that we use screens everywhere, it's no wonder why.
Eye exams are one of the most overlooked health procedures. However, frequent vision tests are one of the best ways to prevent serious diseases and detect any changes in your vision quality before these affect your health, safety, and wellbeing. In fact, ophthalmologists and optometrists recommend annual eye exams.
At Stanton Optical, our mission is to make eye care easy, and that includes your eye exam experience provided by our independent eye doctors.
Easy to Schedule or Reschedule: You can book your appointment online, via phone (877-518-5788), or in-store. Modify your appointment by creating your account or logging-in. Creating your account takes just 2 minutes. You will have access to all your information including your contact details, appointment, order history and prescription. Access My Account now.
Walk-ins Available: If you need an exam now, simply walk-in and get your exam. No prior appointment is necessary. It's that easy. Find your nearest store now.
Affordable: Your eye exam is completely free when you purchase 2 pairs of glasses. If you only need an eye exam, it's only $59* ($89 in AK) without insurance or $99* ($109 OK, AR and AK) for contacts, which also includes a prescription for glasses.
We accept most vision insurance, FSA, HSA, and CareCredit including Buy Now, Pay Later interest-free options in-store.
Here's what you'll get for your eye exam
A complete eye exam from Stanton Optical includes a thorough evaluation of your vision health, including a retinal scan. Something most optical retailers charge more for. Moreover, the exam will help to detect any early signs of serious eye conditions.
We offer eye exams for both eyeglasses and contact lenses. Plus, your contact lens exam also includes a prescription for glasses.
What to expect:
Full patient case history
When you create your account online, you can easily fill out your Patient Optical and Medical History in the convenience of your home, before your exam, to speed up your office visit. Creating your account takes 2 minutes and submitting your information just 10 minutes. Click here to create your account or Log-in. If you're not able to submit your information prior to your visit, please expect longer wait times.
Prescreening
The doctor's technician will administer five pre-tests to provide a more comprehensive assessment of your eye health. This screening can detect early signs of serious eye conditions such as glaucoma and cataracts.
The following tests are included in your eye exam:
Autorefraction
Keratometry
Tonometry
Retinal Evaluation
Visual Fields
Our technician will then escort you to a private, sanitized exam room for an Acuities and Refraction Exam to test for your prescription. Our exclusive telehealth technology allows us to perform this eye exam virtually via video-screen. A physical doctor is also available on-site.
Slit Lamp evaluation
Administered by the technician as required, this assessment will evaluate the health of the front of the eye, where cataracts develop.
Receive prescription
The Ophthalmologist (MD) or Optometrist reviews all your test results and develops your customized eye care treatment plan and prescription.
What to Bring with You for Your Eye Exam
Your current eyewear
Your current prescription
Insurance card (if you have one). Learn more about our accepted insurance plans
Your Covid-19 safety mask is required
Remember to fill out your Medical History prior to your exam visit
The independent eye care doctors at Stanton Optical are committed to your personal vision needs. We look forward to your visit!