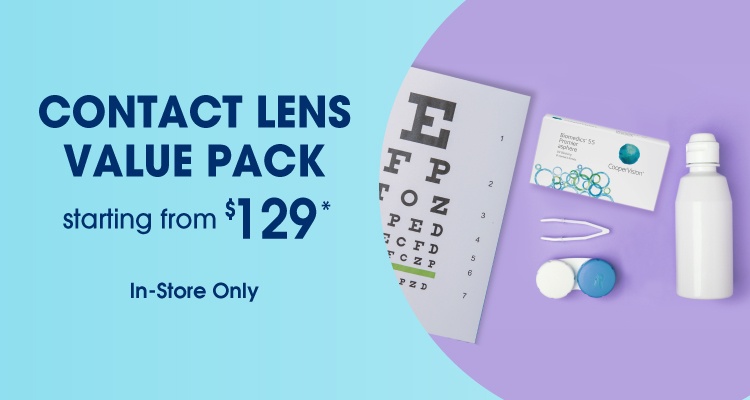 Contacts Value Pack at $129*
Wearing contact lenses has never been easier or more affordable. Save on your contact lenses with our Value Pack, starting at only $129. We'll provide you with your contacts, as well as everything you'll need to care for them—plus a discount on eyeglasses.
Value Pack includes:
Contact Lens Exam Credit
Two boxes of disposable contact lens
First-time contact lens wearer classes
$50 off 1 pair of eyeglasses
Brands Offered
We carry a wide range of contact lenses in many popular brands including:
These are just a few of the top brands we carry in our extensive selection. Please check with your Stanton Optical location to determine if your preferred contact lenses are part of our inventory.
Contact Lens Types
Your local Stanton Optical store carries most types of contact lenses, including:
Soft Contacts
Rigid Gas Permeable Contacts
Extended-wear Contacts
Daily Disposable Contacts
Color Contacts
Which Is Best for You?
With so many different types of contact lenses on the market, it can be difficult to determine which type is best for you. Our vision experts will be happy to recommend a variety of options for you to try out until you find the right contacts to meet your needs.
Here are two different contact lens versions to consider:
Soft Contacts: Because they're flexible, most people find soft contacts to be more comfortable. They also stay in place better during daily activities and sports. Plus, they allow more oxygen to reach the eye, which can prevent discomfort and irritation.
Rigid Gas Permeable Contacts: These contact lenses are often used when a stronger prescription is needed. They need to be replaced less often and can be much more durable than soft contacts.
Brands Carried
Stanton Optical carries a wide range of contact lenses in many popular brands including:
*Offer available in-store only. Contact lens exam credit is applied towards the cost of the Contact Lens Value Pack. Contact Lens Value Pack includes CooperVision™ Biomedics Premier™ disposable contact lenses. The $50 credit can only be used towards a complete pair of eyeglasses; credit has no cash value. Cannot be combined with other offers or insurance. Eye exams are provided by independent doctors of optometry or ophthalmology. Prices vary by location. $99 CVP valid in: AL, FL, IL, IN, NE, NY, OH, WI. $129 CPV valid in: CA, GA, ID, MS, NM, OR, SC, TX, TN, WA. $169 CPV valid in: AK. Contact lenses not for sale in AR or OK.